An optical transceiver is a hardware component that transmits and receives data. Optical transceivers greatly improve flexibility in selecting network equipment. Before the emergence of optical transceivers, users had to decide on network equipment port configuration in advance. Optical transceivers have been available in many forms since they were first developed. Industry standards have been defined for all functionalities and characteristics to ensure the interoperability of optical transceivers with network equipment and transceivers from other vendors. Many organizations have been working on transceiver interoperability. The Institute of Electrical and Electronics Engineers (IEEE) and Multi-Source Agreements (MSAs) define most of the standards for optical transceivers.
In the last 25 years, various types of optical transceivers have been launched in the market.
FIGURE 1 The Evolution of Optical Transceiver Technologies (1995–2021)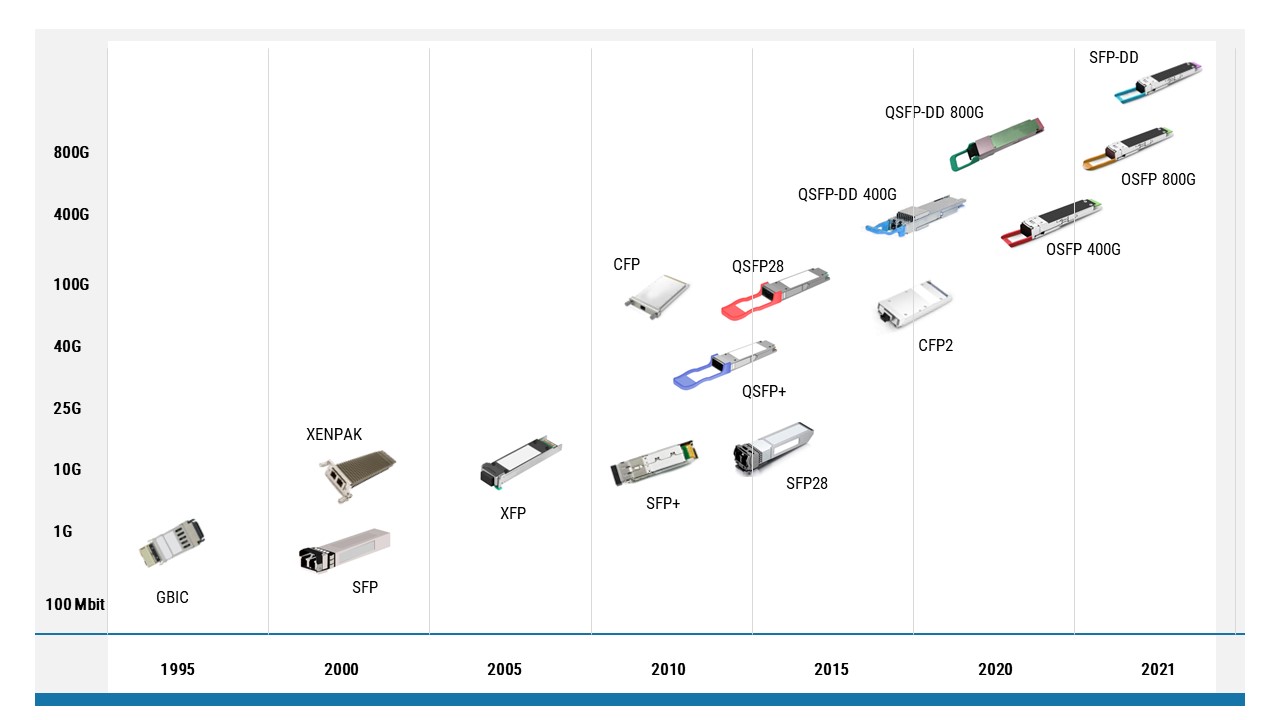 In 1995, GBIC (Gigabit Interface Converter) was one of the first standards released by the Small Form Factor Committee for flexible hot-swappable transceivers and was revised in 2000. While the GBIC technology is now obsolete, sometimes end users still refer to transceivers as GBICs.
2001–2005
SFP (Small Form-factor Pluggable) transceivers were launched just over 5 years after GBIC as a smaller mini version but with the same functionality. They largely replaced GBICs, with typical speeds of 1 Gbps for Ethernet and up to 4 Gbps for fiber channels. SFP uses different connectors, such as LC Duplex, LC Simplex, RJ45, and SC Simplex, and can handle distances of up to 160km. SFP is still in high demand and sells in large quantities.
Additionally, in 2001, another form factor, XENPAK, was announced via a multisource agreement (MSA) between Agilent Technologies, Inc. (U.S.) and Agere Systems, Inc. (U.S.).
In 2002, the XFP (X Form-factor Pluggable) standard was announced, which was adopted in 2003 and later updated in 2005. All XFP modules are 10G, with the Roman numeral "X" in the abbreviation standing for the "10". In 2010, XFP modules were generally used for longer distances, especially for DWDM, covering distances up to 120km with LC Duplex and Simplex connectors.
2006–2010
In 2006, SFP+ (Enhanced Small Form-factor Pluggable), an enhanced version of SFP with a higher data rate that brought speeds up to 10 Gbps (Gigabits per second), was introduced. SFP+ is supported by many network vendors and is still a dominant industry format, with the standard last updated in 2013. Data transmission is available at 8 Gbps, 10 Gbps, and 16 Gbps. SFP+ can cover distances from 30m to 120km, and SFP+ transceivers are available with several different connector types, such as LC Duplex, LC Simplex, and RJ45.
In 2006, QSFP (Quad Small Form-factor Pluggable) transceivers, which are slightly larger than SFPs, were launched. They have 4 lanes enabling data transmission at 4 times the rate over multi-mode or single-mode fiber at 4 Gbps. They can cover distances of up to 10km with LC Duplex and MPO-12 connectors. The CFP (C Form-factor Pluggable) standard was originally designed for 100 Gigabit systems ("C" is the Roman numeral for 100) supporting ultra-high bandwidth networks that form the backbone of the Internet. Ten 10G lanes or four 25G lanes support a single 100 Gbps signal (such as 100GbE or OTU4).
2011–2015
In 2012, the Enhanced Quad Small Form-factor Pluggable QSFP+, a 4-channel small hot-pluggable optical transceiver that supports LC Duplex and MPO-12 fiber connectors, was launched. QSFP has larger dimensions than SFP+ optical transceivers and covers distances of up to 40km. It is still the dominant form factor for the 40 Gbps data rate. Additionally, in 2014, QSFP28 was launched based on the same technology as QSFP+ and with the same physical dimensions but using 4 lanes of 25Gbps. QSFP28 is now the standard interface of choice for 100G applications and is available in several different configurations ranging from 100m using multi-mode to 80km using single-mode fiber optical cable.
Since its introduction in 2009, many improvements have been made to CFP, with the introduction of CFP2 in 2012 and CFP4 in 2014, which allow for higher performance and density. CFP2 is half the physical size of the original CFP specification and provides data rates from 100Gbps to 200Gbps, for distances from 10km to 2000km in amplified long-haul systems with LC Duplex connectors. CFP4 is a quarter of the physical size of the original CFP standard but delivers the same 100 Gbps data rate for distances of up to 10km. It uses LC Duplex connectors with less than 6 W power usage.
2016–2021
In 2018, CSFP (Compact Size SFP) was introduced. CSFP provides an update to bidirectional SFP, with two bi-directional streams of traffic using an SFP port that supports CSFP. It can be used to connect two sites that have bidirectional SFP, halving the number of ports required and reducing power consumption. CSFP supports 2 x 1000Mbps for distances of up to 20km.
In 2019, QSFP56 was standardized, doubling the data rate achieved by QSFP28 with a high transfer speed of 200 Gbps. QSFP56 does this either by using parallel fibers and 8 x 25G wavelengths or by taking advantage of PAM4 modulation and an internal multiplexer transmitting 50G over 4 wavelengths. QSFP56 is available in different configurations using OM4 to reach 100m and OS2 for up to 10km. QSFP56 uses LC or MPO-12 connectors.
In 2019, QSFP-DD (Quad Small Form-factor Pluggable Double Density), a standard that is backward compatible with other QSFP versions, was released. It enables high-speed solutions via an additional row of contacts that provide an 8-lane electrical interface. QSFP-DD can reach data rates of up to 800 Gbps and connect to LC and MPO-16. It also introduced a new CS connector with 2 x CS Duplex connectors on one transceiver, which can be used in breakout applications for 2x100G and 2x200G.
The OSFP (Octal Small Form Factor Pluggable) standard was also introduced in 2019. It is another form factor that uses CS connectors and supports bitrates of 400G and above. It also introduced the new CS connector (along with LC Duplex and MPO-12), which allows 2 x CS Duplex on one transceiver, making aggregation possible without the need for an MPO. It can cover distances ranging from 500m to 40km at data rates of 400G and 800G.
SFP-DD (Small Form-factor Pluggable Double Density) is one of the latest multisource agreement standards. SFP-DD is one of the smallest form factors enabling data centers to double port density and increase data rates. Based on 50G PAM4 signaling, it supports 2 channels with up to 100G and is backward compatible with both SFP+ modules and cables and the new SFP-DD double-density products. For use in data centers, the standard offers a cheaper option for high PERT density breakout applications. With a data rate of 100G, it supports distances of between 500m and 10km and will eventually be able to support 200G with two 100G PAM4 channels.
Download Free Research Sample to Know About: https://www.meticulousresearch.com/product/optical-transceivers-market-5459
---
Related Tag:
---