A 3D printer designs three-dimensional prototypes and creates the product using computer-aided design (CAD) or software-created 3D design diagrams, figures, and patterns. 3D printers build and enable rapid prototyping of three-dimensional objects and structures. These printers eliminate the need for further machining or subtracting processes, such as cutting and grinding. A 3D-printed object is created using additive processes and laying successive layers of material. Each layer can be seen as a thinly sliced cross-section of the object. 3D printers are categorized into industrial and desktop 3D printers. The widely used 3D printing technologies are fused deposition modeling (FDM), selective laser sintering (SLS), stereolithography (SLA), direct metal laser sintering (DMLS), PolyJet, etc. Applications of 3D printers cover various sectors, including education and the whole value chain, from prototypes to spare parts management.
3D printing enables engineers and designers to produce parts with complex geometries or without mechanical joints, which is impossible with traditional methods. Such geometries include hollow cavities within solid parts and parts within parts. 3D printing allows the inclusion of multiple materials into a single object, enabling an array of colors, textures, and mechanical properties to be mixed and matched. Additionally, the production of parts only requires the materials needed to print the part, with little or no wastage compared to conventional production, wherein large chunks of non-recyclable materials are used, resulting in higher costs and wastage.
Thus, 3D printing saves resources, reducing the cost of materials. Printing 3D tubes with particular geometries is cheaper and faster than producing the same tubes using conventional methods. In 2019, the U.S. Air Force used 3D printing technology to reduce the turnaround time and the manufacturing cost of spare parts. Many planes were out of production, and spare part delivery could have taken more than a year. With 3D printing technology, the acquisition time for these parts was reduced from a year to two days. As this technology reduces material wastage, it is inherently environmentally friendly. However, the environmental benefits are extended when factors such as improved fuel efficiency from vehicles with lightweight 3D-printed parts are considered.
The product development lifecycle is the journey of a product from conception to its finished form. One of the advantages of 3D printing is that parts and products are manufactured quicker than traditional manufacturing methods. It enables quick designing and verification, which is advantageous over traditional methods as they take weeks or months to process the design to the prototype stage and subsequently to the production process. Complex designs can be created as a CAD model and then transformed into a product in just a few hours using 3D printers. One of the key benefits of 3D printing is part consolidation, i.e., the ability to integrate multiple parts into a single component. It significantly decreases the number of parts needed, simplifying the assembly and maintenance process by reducing the time needed for assembly. Printing a part on-demand at a manufacturing hub near the customer eliminates the time involved in shipping and logistics.
Customization of products through 3D printing allows for easier product differentiation compared to traditional supply chain models. Moreover, the COVID-19 pandemic has compelled companies, especially those highly dependent on other countries, to rethink their business strategies and transform their supply chains. On-demand production is expected to allow more flexibility, lower prices, and improve part quality, expediting product development. 3DEO (U.S.), a leader in the mass production of metal 3D-printed parts, introduced the Manufacturing Cloud and Additive Printing technologies to closely monitor its production lines to enable real-time responses to fluctuations in demand, thereby overcoming the external risks affecting supply chains.
FIGURE 1 KEY FACTORS INFLUENCING THE INCREASED ADOPTION OF 3D PRINTERS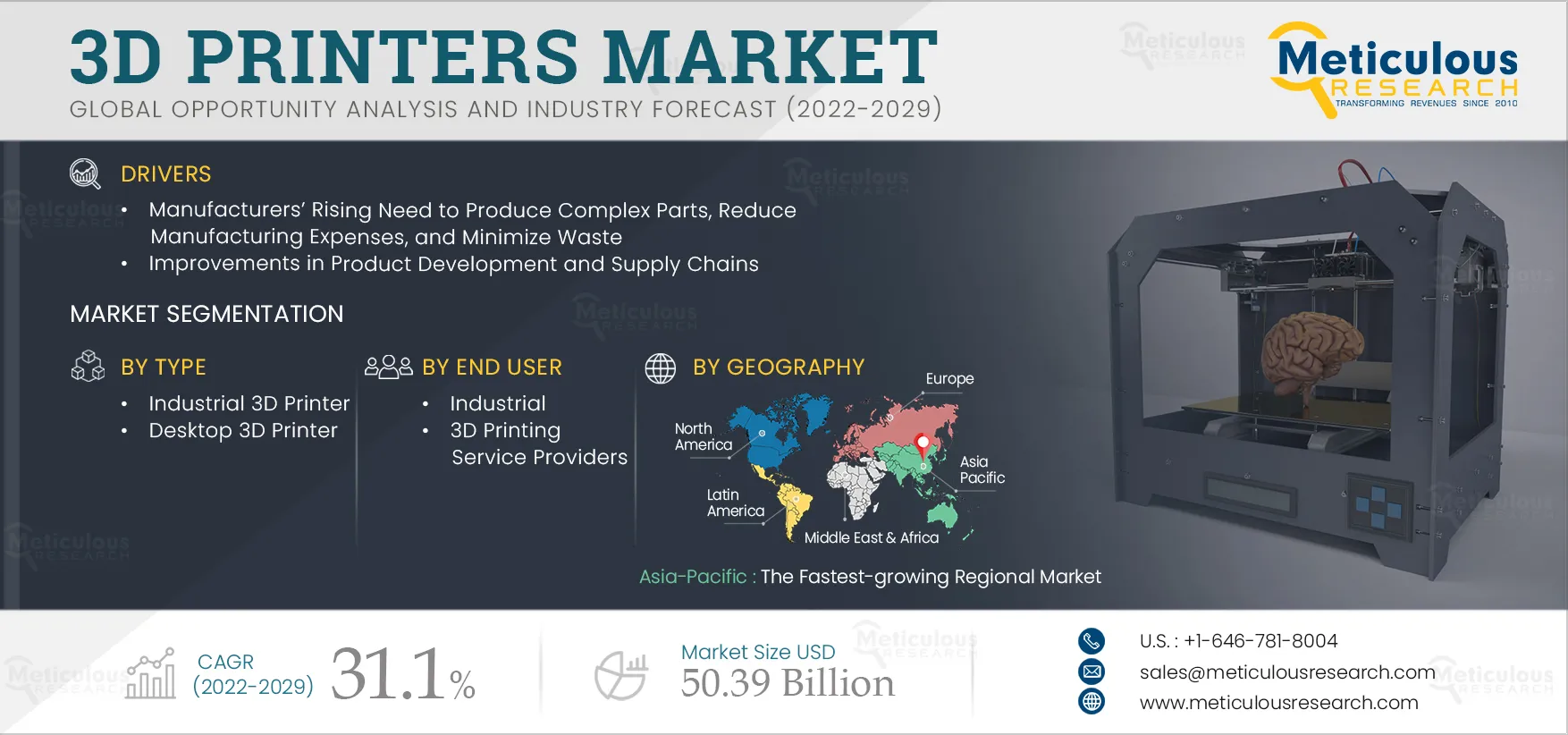 The production of end-use parts is the fastest-growing application area for 3D printing technology. 3D printers are particularly suitable for producing parts with complex geometries, as opposed to traditional manufacturing methods involving several expensive production phases. With 3D printing technology, end-use parts can be created without tooling, making it possible to produce custom parts and complex designs cost-effectively. For instance, New Balance (U.S.) and Formlabs (U.S.) launched the 3D-printed FuelCell Echo Triple sneakers, produced using an innovative footwear 3D printing platform that combines Formlabs' stereolithography (SLA) technology with the custom Rebound Resin. 3D-printed end-use parts reduce the marketing time and the resources required, creating new business opportunities with the flexibility of cost-effective customization. In 2019, Lamborghini, the Italian sports car brand, used carbon technology to 3D print fuel caps for its Urus model. Plastic 3D printing is often used to quickly produce highly customized parts cost-efficiently. Low unit prices and extremely short lead times make 3D printing suitable for producing end-use parts.
Recently, composites-based 3D printing is being adopted due to a lightweight, high-strength material used in aerospace, automotive, oil & gas, and industrial goods applications. 3D printing using composites significantly lowers costs compared to traditional composite manufacturing. For instance, Impossible Objects (U.S.) designed the Composite-Based Additive Manufacturing (CBAM) process specifically for composites. It produces parts stronger than other AM technologies and faster than traditional composite methods with more design freedom and a broader selection of materials, including carbon fiber and fiberglass paired with Nylon and PEEK. Composite materials offer higher strength and stiffness compared to non-reinforced polymers. In 2019, American aerospace manufacturer Bell Helicopters partnered with Thermwood to produce large molds for helicopter blades. Thermwood is a U.S.- based manufacturer that has developed Large Scale Additive Manufacturing (LSAM) technology capable of printing large composite tooling.
A few companies have developed an approach that combines composite 3D printing with robotics. For instance, Continuous Composites (U.S.) has combined composite 3D printing with industrial robots, and the method is called Continuous Fiber 3D Printing (CF3D). Such a combination provides greater flexibility in terms of geometry since the robotic arm can move along multiple axes and the possibility of printing larger parts. In 2021, technology company Arevo (U.S.) announced the successful application of its composite 3D printing technology to manufacture bike frames. The company is also partnering with bike companies such as Franco Bicycles (U.S.) and Pilot (U.S.). Such developments are expected to create market growth opportunities.
Read In Detail @ https://www.meticulousresearch.com/product/3d-printers-market-5228
---
Related Tag:
---